---
Thermal oxidation is the process of growing a layer of oxide on the surface of a Silicon wafer, which creates silicon dioxide (SiO2).
---
Thermal oxidation is accomplished using an oxidation furnace (or diffusion furnace, since oxidation is basically a diffusion process involving oxidant species), which provides the heat needed to elevate the oxidizing ambient temperature.
---
It has excellent properties that make silicon-based microfabrication more efficient.
---
High resistivity. Silicon dioxide is a very good insulator with a resistivity > 1 × 1020 Ω cm.
Etching selectivity. Silicon dioxide is resistant to most etching solutions used for metals or silicon. In
Material. Silicon dioxide is produced from silicon atoms of the wafer. It doesn't require chemicals other than purified oxygen and water.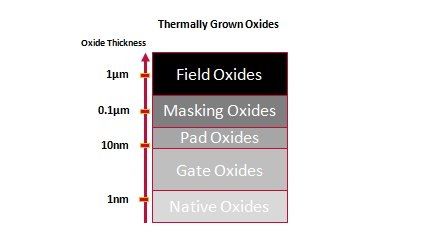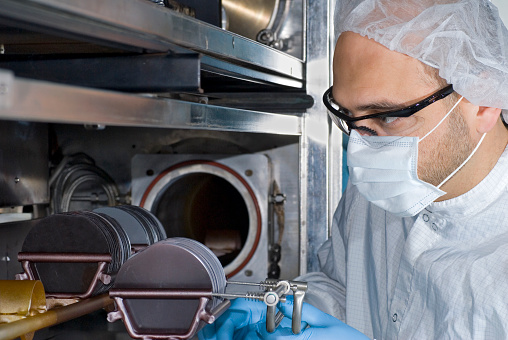 We use two growth methods in our furnaces
Dry Oxidation Growth
Si (solid) + O2 (vapor) ---> SiO2 (solid)
---
The silicon wafer reacts with the ambient oxygen forming a layer of silicon dioxide on its surface
Film Characteristics:
Wet Oxidation Growth
Si (solid) + 2H2O (vapor) ---> SiO2 (solid) + 2H2 (vapor)
---
Hydrogen and oxygen gases are introduced where they react to form water molecules, which are then made to enter the reactor where they diffuse toward the wafers.
Film Characteristics:
More porous than wet oxide
Suitable for higher thickness targets
Thermal Oxide Specifications
Thickness Range,500Å – 100,000Å
Thickness Tolerance, Target ±5%
Within Wafer Uniformity, ±2%
Wafer to Wafer Uniformity, ≤5% or better
Film Stress, -320MPa ±50 (compressive)
Wafer Thickness, 100µm – 2,000µm
Wafer Material, Silicon, Silicon on Insulator, Quartz
Temperature,800˚C – 1080°C
Equipment, Horizontal Furnace
Available sizes
2" | 50.8 mm 3" | 76.2 mm 4" | 100 mm 5" | 125 mm 6" | 150 mm 8" | 200 mm 12"| 300 mm